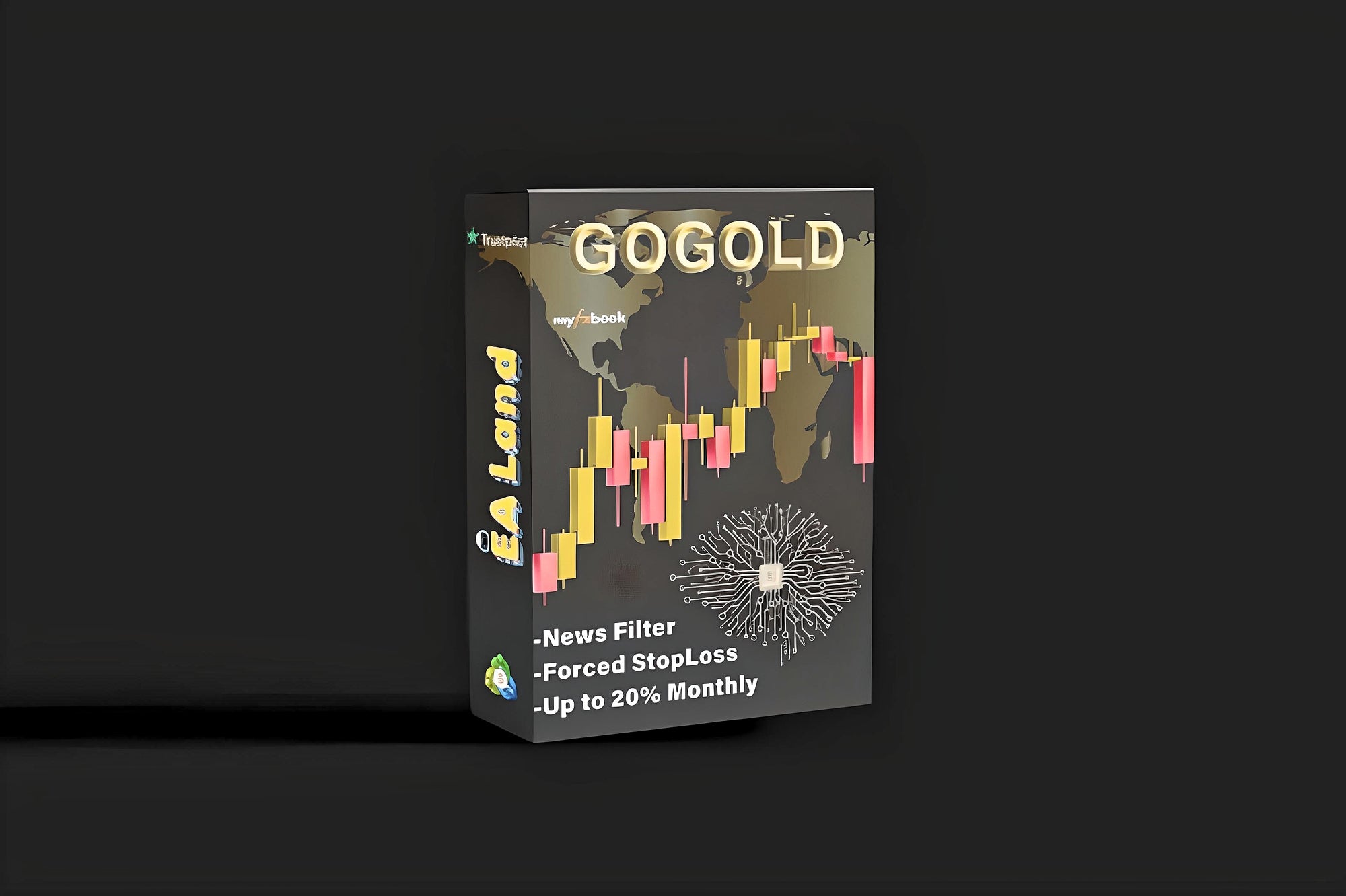 GOGOLD - Forex Gold Robot
Description:
GoGold is an intelligent Expert powered by AI. It has been built to provide the best performance on gold Market. As we all know, Gold is a high volatility market and it could be dangerous for trades, that's why we made different parameters to make sure the Risk is as low as possible for this market.
How do we minimize the Risk?
Firstly, we made an Extra Security phase based on Heicken Ashi candles, which helps the robot to detect the Length of Trend and to not executing any trade at the end of the Trend.
Secondly, There is an option in input that allows you to set a forced exit based on any percentage you're comfortable with, for example if you set it on 10%, as soon as your Drawdown reaches this number it closes all trades and prevent more loss. So you will never have more than 10% Drawdown!
Thirdly, The most dangerous moments in market are days and hours with recently Published News, the best decision in these conditions is not doing anything! We managed to set a News Filter on EA which shows you the upcoming News on chart and turns off the EA automatically on sensitive news.
Fourthly, There are always unpredictable movements and situations, specially on gold. So after searching for a solution, we decided to connect it to a main Online server and manage the EA by our Top Traders who has the experience of working for Hedge Funds and turning it off whenever we detected any abnormal Movement. So this way we combine the AI power and the trading skills to bring the Risk of Account blowing to ZERO 
Features
MT5 Version

Controlled by Top Traders

Analyze technical and fundamental news

Shows all News on chart

Only for XAUUSD, GOLD

Extra Security

Flexible Risk Management

Forced Exit enabled

2 Account license keys – 1 Real & 1 Demo

Expected monthly profit 7% – 18%

Average Drawdown 10%
Live Results
The best way to check the performance of a robot is to see the results and myfxbook, so we provided 2 myfxbook accounts to make sure you can see it in different conditions with all details!
1st Myfxbook Account:
Balance: $2000
Start Date: 2/Aug/2022
2nd Myfxbook Account:
Balance: $10,000
Start Date: 10/Aug/2022
Installation 
1- After purchasing, download the EA file and save it on your PC 
2- paste the file in the Expert folder of your metatrader 5 (you can download Metatrader5 from your broker website) 
3- Email us your metatrader5 account numbers for License activation. (Demo and real account number) – Support@ealand.co
4- There's a User guide with EA which tells you how to set your input and setting, make sure to follow all the steps.
Watch the video below for installation steps.
What is the Guarantee?

We made our products with the highest technology, so we are sure of our products, that's why we offer you refund if you didn't get the promised result. We all know you can't judge an EA in 14 Days and these kinds of refunds are useless, that's why we offer you a 100 Days refund.  LEARN MORE
Telegram Channel 
Join our Telegram channel to check the daily results and promotions, We publish discount codes and promotions in our Telegram.
VPS (Virtual Private Server)
You can provide your VPS from anywhere you want, just make sure the provider you're taking your vps from is a valid one and the servers are always connected and high speed.
Our recommendation for the VPS provider is the link below, We provide our own VPS from this provider: Signup for VPS